Attica CNC Machine Shop: The one stop shop
Currently, Attica CNC machine shop employs a staff of 45, supported by cutting edge technology and machining equipment. All machine shop staff - from front office to shop floor - share a passion for producing and delivering end solutions that exceed the customer's expectations.
To see a gallery of some of our CNC machining work, click here.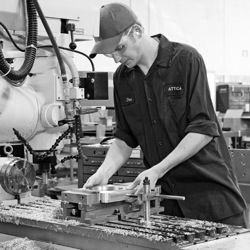 Manufacturing Capabilities
Prototype and Production Machining
Conventional and CNC Machining
Assembly
Mechanical Design
Jigs and Fixtures
Welding and Fabricating
CMM Inspection
Specialized in OEM requirements
Manufacturing Equipment
CNC 5-Axis Turn/Mill Centres
CNC Vertical & Turning Centres
CNC Knee/Bed mills
CNC Lathes
Vertical and Horizontals mills
Engine Lathes
Surface & Cylindrical Grinders
GTAW, GMAW, SMAW welders
As an ISO 9001 Registered company, our high quality components and equipment are verified through first off/last off, in-process inspections. Our quality lab is equipped with two DCC Co-ordinate Measuring Machines, complete with PC-DMIS programming software and Datapage statistical process software; Pp, Ppk, Cp, Cpk, X-bar and other values are easily reported.
To arrange a plant tour or product consultation, please contact Andy Mavrokefalos.